Preserving our Past. Embracing our future.
Woodland Cemetery
The Past is our future
Contemplation, Recreation, & Commemoration
The rural cemetery movement sought to create serene and picturesque burial places in rural settings, incorporating natural landscapes and architectural elements. These cemeteries were designed as park-like spaces, with winding paths, landscaped gardens, and grand monuments. They served not only as burial grounds but also as public spaces for contemplation, recreation, and commemoration. The rural cemetery movement emphasized the importance of connecting with nature, reflecting on mortality, and honoring the deceased in a peaceful and aesthetically pleasing environment. The future of Woodland Cemetery depends on a return to the original intent for these grounds.
Cemetery Services
Woodland Cemetery continues to provide affordable burial services well below the average cost of most cemeteries in the United States. If you are interested in purchasing a plot, call (607) 746-6663 for more information.
Explore Our Grounds
Whether you're looking to take a leisurely stroll or searching for more challenging terrain, Woodland Cemetery's 25 acres offers numerous loops open to walkers, joggers, & bicyclists.
We Need Your Support
We receive no funds from any government or church. We rely on the gererosity of the community to help maintain our grounds and honor our history.
The Future Is Green
Woodland Cemetery is actively seeking to create green burial options. Check back for updates on our progress. Or contact us with your ideas!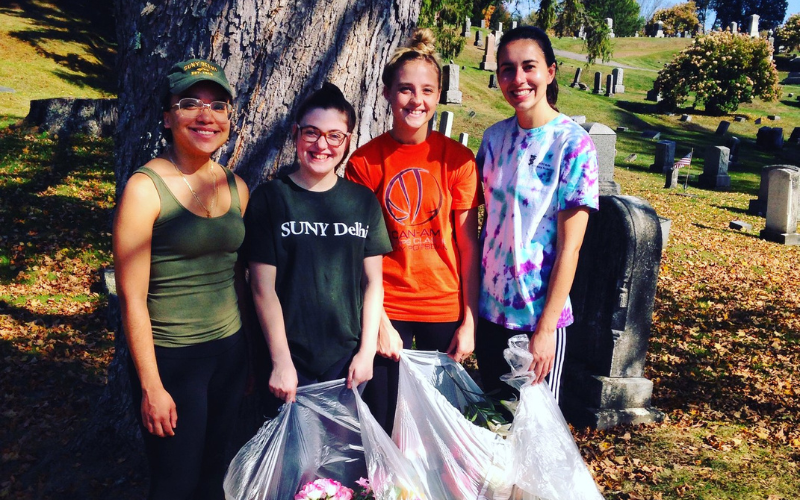 Volunteer Opportunities
Interested organizing a cemetery cleanup day with your scout troop or fraternal organization? Have an idea for a cemetery program or tour you'd like to present? Drop us an email!
Honoring Our Veterans
"The willingness of America's veterans to sacrifice for our country has earned them our lasting gratitude." —Jeff Miller
Our History Rests Here
Notable Residents

Osman Steele
Undersheriff
1810-1845
Undersheriff Steele was slain by anti-renters during the Anti-Rent War, a tenants' revolt in upstate New York from 1839–1845. The Anti-Renters declared their independence from the manor system run by patroons, resisting tax collectors and successfully demanding land reform.
Henry Leavenworth
General
1783-1834
Henry Leavenworth was an American soldier active in the War of 1812 and early military expeditions against the Plains Indians. He established Fort Leavenworth in Kansas, and named after him is the city of Leavenworth, Kansas, Leavenworth County, Kansas, and the Leavenworth Penitentiary.
Ferris Jacobs, Jr.
Civil War Union Army Brevet Brigadier General, US Congressman
1836-1886
During the American Civil War Jacobs served in the Union Army as a commissioned captain in the 3rd New York Cavalry as lieutenant colonel of the 26th New York Cavalry. He also served as brevetted brigadier general of Volunteers.He delegated at the Republican National Convention in 1880, and was elected as a Republican in the Forty-seventh Congress.

John Womack Vandercook
Writer, Actor
1902-1963
John Womack Vandercook was an NBC radio news commentator, actor, and writer. Vandercook wrote for the Atlantic Monthly and The Saturday Evening Post. He was also a novelist whose works were turned into screenplays for Mr. Moto in Danger Island (1939), Murder in Trinidad (1934) and The Caribbean Mystery (1945).

Toliver Holmes
Union Army Solider
1840-1920
Toliver Holmes was a young black man born into slavery in Virginia who escaped to New York, changed his name to avoid capture, and mustered into the Union Army's 26th Regiment of Colored Troops (NY), later settling in Delhi, NY.
Holmes' Civil War experience was dramatized in the play Toliver and Wakeman by Kyle Bass, and premiered at Franklin Stage Company in August 2023

Erastus Root
Congressman
1773-1846
Erastus Root was an American lawyer and politician from New York. He is most notable for serving four separate non-consecutive terms in the U.S. House of Representatives in the early 19th Century. Born in Hebron, Connecticut Colony, he graduated from Dartmouth College and practiced law in Delhi, New York.

Margaret Womack Vandercook
Author
1877-1958
Margaret Womack Vandercook has been described as the queen of Camp Fire writers, writing 21 Camp Fire novels under her own name as well as the pseudonym "Margaret Love Sanderson." In addition to the Camp Fire Girls series, Margaret is also known for her other girls series books which include the Ranch Girls series, Red Cross Girls series, and Girl Scouts series. Additional works include stories, articles and poems for Harper's Bazar, Delineator, Pearson's Magazine, Book News Monthly, Paris Modes, and many other publications.
Did You Know?
The History of Woodland Cemetery
In 1813 General Henry Leavenworth purchased a square rod of land from George Fisher for the purpose of burying his wife. Others were invited to use this site for interment of deceased relatives. The graveyard was deeded to the Village Trustees in 1830 (in part) by Erastus Root and the remainder in 1849 by G.H. Edgerton. This Cemetery was located at the present day Court Street and High Street adjacent to the Cherry Hill Estate.
The rapid growth and importance of Delhi demanded a more fitting cemetery and in June 1849 citizens of Delhi organized the Woodland Cemetery Association with the following officers: Richard Titus (Pres.); H.D. Gould (V.P.); Charles Marvin (Sect.); Horace Griswold (Tres.) The land on Whig Road (Meredith Street) was purchased and lots were laid out.
In 1857 lots were $8.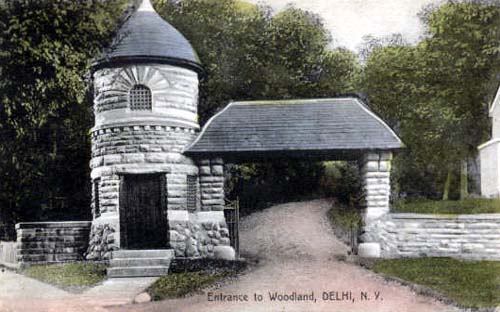 Friends of Woodland Cemetery
Upcoming Events
Through educational programs, events, and outreach activities, we aim to highlight the cemetery's unique stories, cultural heritage, and environmental significance.
Visit Friends of Woodland Cemetery at Bushel for treats (and maybe a few tricks) on Halloween!Where: Bushel, 106 Main Street, DelhiWhen: October 31st, 3 pm - 6 pm (or until the candy runs out!)
A Tour of Woodland Cemetery's Art and Iconography. Saturday, October 21, 2–3 pm, Friends of Woodland Cemetery will present a tour of Woodland Cemetery given by Delhi Town Historian Marianne Greenfield who will discuss the symbolism and artistry behind the gravestones...