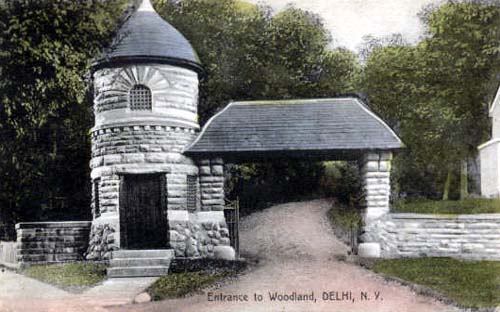 We are a dedicated group of individuals committed to safeguarding the historical, cultural, and natural significance of Woodland Cemetery as a cherished community asset.
A Tour of Woodland Cemetery's Art and Iconography. Saturday, October 21, 2–3 pm, Friends of Woodland Cemetery will present a tour of Woodland Cemetery given by Delhi Town Historian Marianne Greenfield who will discuss the symbolism and artistry behind the gravestones...
read more
Join Friends of Woodland Cemetery at the Delhi Harvest Festival Saturday, September 24th from 10 am-4 pm for Make-Your-Own Sundaes, donuts, & raffle baskets from Muddy River Farm Brewery and Roman Roaster Coffee! Thanks to Stewart's Shops for providing the sundaes...
read more
The Past is our furture
About Friends
Our sole purpose is to preservate Woodland Cemetery through fundraising and awareness initiatives. We are committed to safeguarding the historical, cultural, and natural significance of Woodland Cemetery as a cherished community asset. By mobilizing resources and generating public support, we aim to ensure the long-term preservation, maintenance, and accessibility of this sacred resting place.
Woodland Cemetery is a twenty-five-acre, active, non-sectarian cemetery with over five acres of undeveloped land. Through our fundraising efforts, we seek to help keep Woodland Cemetery financially solvent and provide funds for income-generating capital improvements that will benefit current and future lot holders. We actively engage with the community, encouraging participation and donations from individuals, corporations, and organizations who recognize the importance of Woodland Cemetery's preservation and development.
Furthermore, we are dedicated to raising awareness about Woodland Cemetery's historical and cultural value. Through educational programs, events, and outreach activities, we aim to highlight the cemetery's unique stories, cultural heritage, and environmental significance. By fostering a sense of connection and appreciation among community members and visitors, we strive to ensure that Woodland Cemetery remains a revered landmark for future generations.
Ultimately, our organization is driven by a deep sense of responsibility to honor the past and protect the future. We believe that by preserving Woodland Cemetery, we are not only safeguarding a physical space but also preserving the memories, legacies, and contributions of those who came before us. With the collective efforts of our volunteers, supporters, and stakeholders, we aspire to create a sustainable and vibrant future for Woodland Cemetery as a place of remembrance, reflection, and reverence.
Thu, Aug 17, 5:00 pm – 6:00 pmBushel Collective, 106 Main Street, Delhi NY Diane Ciccone will discuss her research into the life of her great great grandfather Toliver Holmes who was born into slavery, walked to his own freedom, enlisted as a soldier in the Civil War,...
read more
On Friday, August 4th, Friends of Woodland Cemetery invite you to a full evening celebrating the life of Toliver Holmes and the world premiere of Kyle Bass's new play, Toliver & Wakeman. This event will begin at Woodland Cemetery in Delhi for a talk by playwright...
read more
Friends of Woodland Cemetery