We're at work creating on-line search tools for finding a particular person's gravesite, or to help find who is buried in a particular section of the cemetery. Until then, we've compiled a list of other resources we hope you'll find helpful.

Find a Grave
FINDAGRAVE.COM has the world's largest gravesite collection, with nearly 5,000 memorial records for Woodland Cemetery in its database.

Old Cemetery Names
Searching for an old family name? Download Woodland Cemetery's OLD CEMETERY NAMES  document.
Delhi's orginial cemetery (on Cherry Street) was founded by General Henry Leavenworth in 1813.
Woodland Cemetery was established in 1847.
In 1857, a cemetery lot cost $8.
The "Cemetery House" on Orchard Street was orginally owned by Seth White.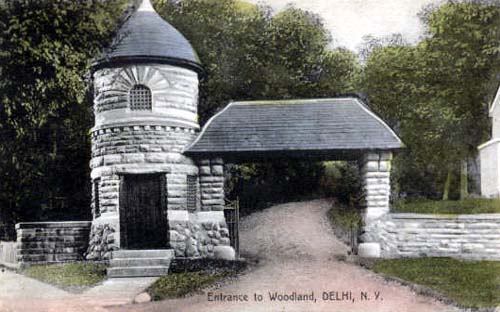 Below you'll find some of the founders and early leaders in Delhi, NY, and also some individuals who helped shape our state and our nation.
Address
2 Orchard Street
Delhi, NY 13753
Hours
Woodland Cemetery is open 365 days a year.
From May 1 to October 31: 7 am - 8 pm
From November 1 to April 30: 7 am - 5 pm
Mailing Address
Woodland Cemetery Association
P.O. Box 183
Delhi, NY 13753