Whether you're looking to take a leisurely stroll or searching for more challenging terrain, Woodland Cemetery's 25 acres offers numerous loops open to walkers, joggers, & bicyclists. Download a Basic Walking Map.

Dogs
Dogs are allowed in the cemetery but must be kept on a leash at all times. Owners are required to clean up after their pets.

Getting Around
Walking, jogging, bicycling, & driving on the roadways in the cemetery are allowed. No motor scooters, ATVs, or motorbikes are allowed.

Hours
Woodland Cemetery is open to walkers from sunrise to dusk, 365 days a year.
During winter, excepting funerals, the cemetery is closed to motor vehicle traffic.
Maps
Coming soon! Woodland Cemetery is working to scan our vast collection of maps (old and new) for vistors to download and print.
In the meantime, we've created a basic outline of our trails, with walking loops and milage. Download the Basic Walking Map.
From their inception, cemeteries designed during the mid-nineteenth century Rural Cemetery Movement were intended as civic institutions designed for public use. Before the widespread development of public parks, the rural cemetery provided a place for the general public to enjoy outdoor recreation amidst art and sculpture previously available only for the wealthy.
Images of hope and immortality were popular in rural cemeteries. Statues and memorials included depictions of angels and cherubs as well as botanical motifs such as ivy representing memory, oak leaves for immortality, poppies for sleep and acorns for life.
[from Wikipedia]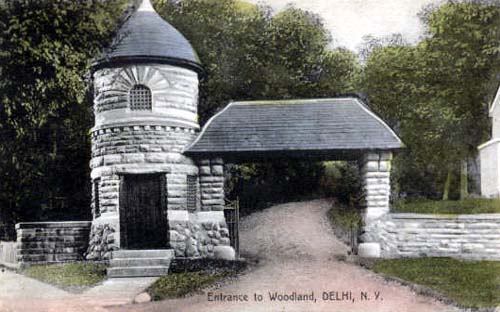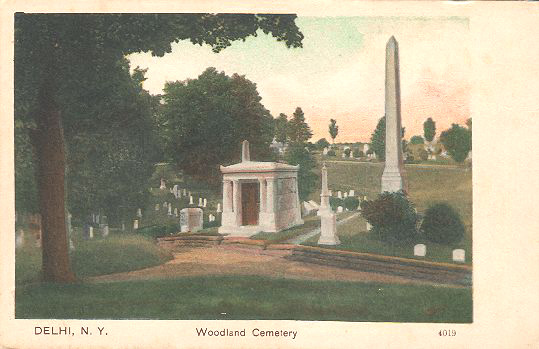 Address
2 Orchard Street
Delhi, NY 13753
Hours
Woodland Cemetery is open 365 days a year.
From May 1 to October 31: 7 am - 8 pm
From November 1 to April 30: 7 am - 5 pm
Mailing Address
Woodland Cemetery Association
P.O. Box 183
Delhi, NY 13753